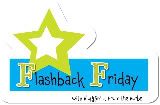 April's assignment: Because April is when a lot of high schools hold their proms, I have dubbed April's theme as "Black Tie Affair". I would love to see photos of you and/or your family dressed up. It doesn't necessarily have to be "Black Tie," but rather it can be any occasion that calls for you to be dressed up a little more than usual: prom, formals, theater shows, balls, parties…you get the general idea. I can't wait to see what you all come up with (I really am hoping and praying that some of you post photos of your high school formals – lol).
Alright, per Melinda's request, here are some prom pictures :).  I hope you really enjoy these, because wow are they soooooo dug up from the original albums :).  I had to scan them in, so I apologize for the quality. This was way before my digital camera days…
Lezlie (Keeton) Daugherty, me, and Crystal (Hale) Briscoe


This is my HS boyfriend Cory and me… I think I borrowed that dress from Amy (Hood) Weathers!  Wow, how did I remember that?  I had two proms that year and of course you can't wear the same dress twice…

This is Crystal Moon and me…wow those were the good ole days. 

Okay, so now it's YOUR turn!  Go to Melinda's Blog, link up and join us in this totally horrendous walk down memory lane!!! :) Just kidding…it was fun to go through the old pictures.