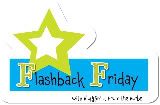 May's assignment: Since so many people get married during the month's of May and June, I have designated May's theme as "Going To The Chapel". So get out photos of your wedding, your sibling's wedding, your best friend's wedding; heck, you can even post photos of bridal showers, bachelorette parties, rehearsal dinners, and honeymoons if you'd like (just remember to keep them family friendly).
For this week's FF, I am picking a photo from my best friends wedding.  She just had her 7th wedding anniversary on May 18th…or crap…was it the 19th?  Either way, Happy Anniversary Crissy!  This is one of my favorite pics of us, and that was such a beautiful day! 

I have to say that I was more tan in this picture than I have ever been in my entire life.  We had been living in Tampa, Florida for a short time while Norman was working at MacDill AFB.  We spent so much time at the beach while we were there, and we just LOVED relaxing and taking in the nightlife down in Ybor City.  I think I was living in a state of perpetual happiness during that time…Norman had just come back from Afghanistan, we had just spent a week at Disney World (which I adore!!!), and our married life could finally begin.  This was also about 3 months before he switched to the Air Force, so in this pic I was an Army Wife!   Ahhh the memories!