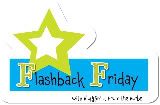 July: "Holiday Road" (vacation photos)
Last week when I did my Jamaica vacation, I didn't realize that next month's photos will all be "water" ones…like beach, pool, etc.  So now I know to stay away from more beachy ones until then!!!  So this week, I picked our Walt Disney World/Universal Studios  vacation that we took when Eli was 3 (2006).  It was a momentous trip because little did we know, it would be the last one we would take (big vacation anyway) as a family of 3!  It was also wonderful because Jordan got to come with us. 

So that's it! Head on over to Melinda's blog to link up and join us for Flashback Friday!