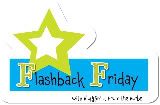 September: "Dear Old Golden Rule Days" (school photos)
I am going to post two photos centered around one event…Geary's High School football homecoming.  This first one was when I was little…I'm guessing 3 maybe – and was taken right before we left to go to the game.   Both of my parents were teachers, so they were always at the games either working the gate or concession stand, or doing something ;).   I scanned it in from a scapbook I'd made in high school, so that's why it looks kind of funny.  I had some seriously blonde hair back then!!! 
And this is of Geary's homecoming my senior year - 1997.  I know I've posted this picture before, but I just wanted to post this for FF.  Tonight is Geary's Homecoming, and it is just so funny how the event stays the same…the faces just keep changing from year to year.