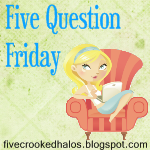 Rules: Copy and paste the following questions to your blog, answer them, visit Mama M. to grab the MckLinky Blog Hop code, and link up! No blog? That's okay! Just leave your answers in my comments!   Here we go!!!
1. What were you doing the last time you really had a good laugh?
Watching Glee last week.  That show is hilarious and Norman and I are always laughing so loud we are sure the kids will wake up and tell us to hush!!  That show is the BEST!
2. Who was your first CELEBRITY crush?
No doubt about it, the Karate Kid, Ralph Macchio.  He was the cutest thing and I just thought he was IT. 

3. What is one talent that you wish you had?
It's not so much a talent, as a genetic thing…I wish my eyesight wasn't so bad that I always needed glasses or contacts.  So as far as the talent side of that goes…I guess I'd have to say "Super Eyesight!"

4. How often do you and your spouse go out w/o the kids? Is it frequent enough?
Not often enough, for sure.  For people who are close to relatives it makes it much easier, but being military we don't have that luxury.  It takes so long to get to know people enough to trust them with the kids, and for them to know and understand Eli, and before we know it, it's time to move again.  We are homebodies, so it's okay.  Although there is this one place that we've been blessed to go out to a few times… Old Ebbitt Grill, which is across from the Treasury Bldg, and that is amazing…We will have to go again before we move to hickville…aka Shreveport, LA. 
5. What colour(s) is your bedroom?
Well, the walls are white.  We live in base housing and it is a huge accomplishment (at least in my mind) to get the livingroom and entire downstairs painted.  We have to paint it all back when we leave, so the bedrooms never get painted.  Our bedspread is a light mint green with cranberry roses on it, and we have heavy cranberry colored drapes, and our sheets are a chocolate brown. 

So that's it! Join in and go visit the other blogs who participated! And if you miss out on it this week, be sure and get to it next week!
Ciao!