It's time for 5 Question Friday over at Mama M's Blog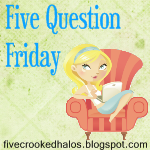 1. What is the one thing that you reach for the most in a day (excluding phones, computer or children's butts for spankings)?
I'd have to say it's a tie between laundry and the dishes.  I feel like I'm always doing one of those two things. 
2. What is the farthest you have been from home?
Jamaica
3. What kind of cell phone do you have? Love it or hate it?
I have a Razor flip phone and I am okay with it…it's affordable and it works, so I can't complain. 
4. Coke or Pepsi?
Coke
5. If you could go back and change anything about your wedding day, what would it be and why?
That's tough.  I would say I would have spent more time with my bridesmaid Michelle.  She was such a wonderful friend and that was the last time we got to really see each other.  She passed away over a year and a half ago, and I still can't believe she's gone.  
So that's it!  Head on over to Mama M's blog and join in! 

Stacey