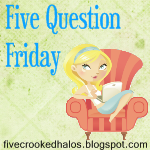 It's time for Five Question Friday!
1. What phrase, or phrases, do you say a lot (holy cow, geez, seriously?)
I have to confess that I say "crap" a lot…I also say "oh my" and "no way".  That's about it I think…
2. Swimming: Are you a kamikaze off the boat, take the plunge from the deep end, or a gradual, slow submersion from the shore or shallow end kind of person?
If we are snorkeling or something then I just jump in feet first, but if I'm at the pool with the boys, I go in gradually.  I don't like to jump in unless the water is really warm. 
3. Have any tattoos? If not, what would you get?
I don't, but I want one…It's a heart with wings on it and I think I want it above my ankle…or lower back.  I haven't decided.  I keep changing my mind.
4. What is your favorite tree?
The Oak Tree…because when all the acorns fall off, I love to watch the squirrels chew on them and the boys pretend they are bombs when they are playing war outside.  It's really priceless to see them scavenging around for them. Plus, they are great to peel and pick at to pass the time at the playground! :)  Oh yeah, and they make a nifty sound in your dryer when you didn't get all of them out of the kids pockets before washing!
5. Two pronged question: What is your favorite non-physical thing about your spouse? What is your favorite physical thing about your spouse or significant other?
My favorite non-physical thing about Norman is is spirit.  He is the most loving and giving person I have ever met, and I love that so much.  I am glad that the boys have him as their role model as they grow into young men.  And physical, I would have to say his arms.  Especially when he is working alot with weights and you can just see the strength in them.  I feel very protected and loved when he hugs me with his big arms… I know, I know…sappy sappy! :) 
You should head over to Mama M's blog to join in the fun!