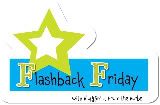 October's theme:  "Costume Party." You can post photos of you or your children dressed in some sort of costume and it doesn't necessarily have to be a Halloween costume.
Wow! It sure has been a while since I have done Flashback Friday! How on earth the time gets away from me, I'm not sure…oh wait, yes I do know how…KIDS!!! :)  But alas here I am, and I'm back in the saddle again!
For this FF, I decided on this picture…
I know that I probably have posted this picture before, but I had to again…and probably will every Halloween.  I had to scan it, and this is the best I could do on fixing it…it's pretty spotty.  But this picture was of me and my precious friend Michelle, and it was taken the Halloween of 2000.  My roommate Misty and I had thrown a Halloween party at our apartment and we invited all our friends.  Michelle came over early and helped me spray paint my hair with this silver spray stuff.  The funny thing about it is that we worked together at ACIG in Dallas, and I couldn't wash that junk out of my hair, so I went to work for at least a week with silver in my hair!!! :)  She passed away a couple of days before Chase was born in 2007, and I miss her dearly.  I love you Michelle.  We had so many great memories, and I'll never forget a single one of them. 
It's not too late! Join Melinda for her Flashback Friday!